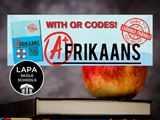 Achieve better marks in Afrikaans
Afrikaans+ is a learner-friendly guidebook which caters for additional language learners who want to achieve better marks in Afrikaans. This practical guide contains explanations in English and is filled to the brim with examples. It explains tests and exams used for both the DBE and IEB and was written by a panel of educational experts who understand the needs of additional language learners.
This book is completely up to date. The Afrikaanse Woordelys en Spelreëls (AWS) has just been re-issued, blindsiding many a teacher with the changes in Afrikaans grammar rules. While the AWS is seen as the touchstone for Afrikaans language practitioners, it could be a daunting book to use in the classroom. Afrikaans+ was written with the most recent changes to the AWS in mind, and presents these grammar rules in a clear, practical manner.
Every chapter in the book also offers free online support – exercises, answers and examples – which will be kept up to date by the panel.

A QR code dedicated to each chapter takes the learner to frequently-updated online examples, additional guidance and often additional drill work, a large chunk of which is completely free.
The book contains six sections:
Comprehension – Begrip: This explains how you should approach a comprehension test, how to look for the answers, and provides tips on how to understand the questions. It also explains how to make summaries. Visual texts, such as cartoons, graphs and maps, are also explained.
Grammar – Taal: This is a step-by-step guide to understanding the "how" and the "why" of Afrikaans grammar. You will be guided with English explanations and Afrikaans examples on things like word order, tenses, adjectives, adverbs, time, numbers, plural and diminutive forms, the negative, active and passive voice, pronouns, participles and abbreviations. There are sections offering basic knowledge to help the struggling learner through the exam. But there are also more advanced sections for the learner who wants to get an A and for the teacher who wants to become familiar with all the changes in the AWS.
Literature – Literatuur: Everything you need to know about prose, drama, short stories and poetry. What is the difference between a metaphor and a simile? Who is the protagonist and who the antagonist? We use simple explanations and good examples of all these and other literature terms.
Oral – Mondeling: The book contains practical pointers on how to prepare for different kinds of oral, such as interviews, prepared speeches, introducing and thanking a speaker, roleplay, how to make a vlog and how to discuss the booklist you have to read for grade 12. Examples of all these are given, and more are provided online.
Vocabulary – Woordeskat: You will always need vocabulary for essays and orals. With the most recent vocabulary on food, technology, life after school, sport and lots more, you will be well prepared.
Written work – Skryfwerk: This section starts with a step-by-step approach to writing: how to choose a topic, how to do your planning, what not to use in an essay and how to end your story. The examples of all the different types of written work (essays, long and short transactional writing) and tips on each, will help you to master each one. Online you will be able to read through more examples.
What sets this book apart?
• It is in line with the very latest AWS (2017), in contrast to most grammar books based on previous versions of the AWS that are now outdated.
• Each chapter is backed by free online support that gets updated as changes occur.
• Each chapter starts with a very basic summary – a lifebuoy to help the struggling learner to pass.
• Each chapter shows the learner, teacher or parent how the work gets tested in the DBE or IEB system, so that the learner knows how to prepare accordingly.
• The book contains lists with hundreds of important words, which will help the learner and teacher with vocabulary and spelling. Each Afrikaans word has the English word next to it, making this a one-stop guide for many additional language learners and practitioners.
• It contains examples of all the written and oral assessments learners may encounter, including examples of modern developments such as blogs and vlogs, and tips on completing these assignments.
• A QR code dedicated to each chapter takes the learner to frequently-updated online examples, additional guidance and often additional drill work, a large chunk of which is completely free.