Recipe from: I cook, because we eat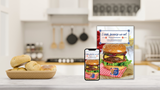 PIZZA
Serves 2
Ingredients
For the base
10 t (10g) Dry yeast
1 t (5ml) Sugar
1 cup (250ml) Lukewarm water
1 T (15ml) White bread flour
2 cups (500g) White bread flour
¼ cup (60g) Clover Springbok Unsalted Butter
2 t (10ml) Salt
For the topping
1 tin (410g) Tomatoes, chopped and peeled
1 T (15ml) Tomato paste
1 Clove garlic, chopped
1 t (5ml) Dry basil
1 t (5ml) Dry oregano
1 t (5ml) Sugar
300g Mozzarella cheese
Toppings of your choice
Salami, Clover Olive Pride Kalamata Olives, mushrooms, fresh basil, etc.
Salt and black pepper.
---
Method
For the base
Put the yeast and sugar in a big glass bowl, add lukewarm water and leave to dissolve.
Sprinkle 1 T bread flour over the mixture, cover with a dry cloth and leave in a warm place for 10 minutes until you see some foam develop.
Sift the flour and salt over the yeast mixture. Stir with a wooden spoon until it forms a soft dough. Add extra flour if necessary.
Knee dough for 5 minutes on a flat surface dusted lightly with flour.
Place back in the glass bowl, lightly smeared with oil, cover and allow to rise until double in volume – this takes about 1 hour.
For the topping
Place the tomatoes and tomato paste in a pot with the garlic, herbs, sugar, salt and pepper.
Simmer for about 10 minutes without a lid.
Remove from the heat and cool completely.
To make the pizza
Preheat a pizza stone in the oven at 220°C.
Put well-risen dough on a flat surface, lightly dusted with flour and kneed for 1 minute.
Place dough on a floured sheet of baking paper.
Roll dough out in one big circle of 35 cm diameter or in two smaller circles.
Smear cold tomato mixture over the pizza base.
Sprinkle mozzarella cheese on top of tomato base followed by the toppings of your choice.
Swiftly – holding the baking paper tightly on both ends – move the pizza and baking paper onto the hot pizza stone.
Bake for 15 minutes until the dough is cooked through and the cheese is browned and bubbling.