International Honour for Shaka Rising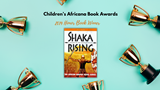 Catalyst Press, Story Press Africa and LAPA are proud to announce that Shaka Rising: A Legend of the Warrior Prince has been named a 2019 Honor Book by the Children's Africana Book Awards.
The Children's Africana Book Awards (CABA) are awarded by Africa Access and the Outreach Council of the African Studies Association.
Africa Access is a USA-based non-profit founded to help libraries, schools, and parents to improve their collections of books about Africa.
The CABA have been awarded since 1991. Over the past 27 years, the CABA committee has honoured over 90 books; each book recognised both for its literary excellence and for its role in presenting diverse and nuanced images of African histories and cultures. The CABA committee is panel of scholars in African Studies and children's literature.
Shaka Rising was designed and created by Story Press Africa, a local publishing imprint of Catalyst Press. LAPA distributes works of Catalyst Press in South Africa.
"It is huge honour," says Jessica Powers, head of Catalyst Press.
"We're very excited about this award," says Robert Inglis, co-founder of Story Press Africa. "The Story Press Africa imprint was created to place African stories in front of global audiences, and this award does exactly that."
As part of the award, Luke Molver, the illustrator and co-author, will be heading from South Africa to the award ceremony at the Smithsonian Museum of African Art in Washington, D.C. While there, he also plans to do classroom visits and bookstore events to spread his love and enthusiasm for comics, graphic novels, and storytelling with readers of all ages.
Shaka Rising is a full-colour graphic novel which places Shaka's rule against the slave trade that was expanding from the East African coast, and the Europeans spreading inland from the south. It draws on the recent research of Prof. Dan Wylie and explores the rise to power of a shrewd young prince who had to consolidate a new kingdom through warfare, mediation, and political alliances in order to defend his people against the expanding slave trade.
Some of the artworks in this graphic novel.
All the research is expertly repackaged by the young South African graphic novelist Luke Molver and co-author Mason O'Connor, under the expert guidance of Prof. Mbongeni Malaba.
Molver explains: "I believe that people are inherently the same: we feel the same emotions, burn under the same sun and bleed the same red. Shaka Rising is an epic tale set in a different age, but its characters and themes are as familiar to us as sibling rivalry, the heartache of a lost love, or simply a yearning to belong. It is as much a coming-of-age tale as it is a saga of war and politics."
Molver lives in Durban. He says: "I was misled to think I knew the significance of the tale I was taking on. I was, like most, only familiar with pop-culture's Shaka Zulu: a warrior prince, violent and terrific. I knew very little of the nuanced and complex figure whose legacy has shaped South African history. I was to learn not only the immensity of Shaka's influence on warfare, but also his ground-breaking innovations in politics and leadership.
"Graphic novels are the ultimate medium of communication, education and entertainment. And, if one considers the ancient cave paintings of San Bushmen, sequential art has roots in Africa. So, Shaka Rising is the ultimate portrayal of our history; visceral, visual and informative. I look forward to sharing its significance with the wider world."
The second book in this series, King Shaka: Zulu legend, will be available in South Africa from September 2019.
Luke Molver studied Fine Art and Graphic Design at the Durban University of Technology and works as a freelance illustrator and comic book creator in Cape Town, South Africa.
Luke W. Molver
Mason O'Connor was born in Stutterheim in the Eastern Cape of South Africa and has spent the majority of his life living in the small town of Hilton outside the capital of KwaZulu-Natal, South Africa. He is currently studying mathematics at Stellenbosch University.
Dr. Mbongeni Malaba completed his doctoral degree on Shaka as a Literary Theme in 1986 at the University of York where he studied at the Centre for Southern African Studies. He is currently a Professor of English Studies at the Pietermaritzburg Campus of University of KwaZulu Natal, South Africa.
Story Press Africa is a proudly South African imprint of Jive Media Africa together with USA based Catalyst Press. LAPA is proud to distribute it to South African audiences through our distribution agreement with Catalyst Press.