Extract | Conversations with influencers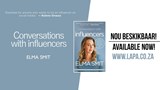 10 Superstars share their trade secrets.
Bouwer Bosch
Bouwer Bosch started his influencer journey as the lead singer of the Afrikaans rock band Straatligkinders. He was influencing people to sing along to Christian-themed lyrics even though his band played on the same stages as edgy groups such as Fokofpolisiekar and Die Antwoord. He was an early adapter, constantly on the lookout for ways to promote the music he was making, and eventually also Liefde Wen, his clothing business-with-a-purpose. Since then he has pursued a variety of acting roles, made movies, created the podcast "Narratief met Bouwer Bosch" and launched his production company, Freckle.
---
Have you ever considered buying followers?
Yes, I have, actually! The thing about social media is that, on the one hand, I feel like it is so filtered and fake. On the other hand, I feel like it's an amazing marketing platform. The more followers you have, the more people come to your shows, and the greater your pay cheque.
---
But, of course, the irony is that it'll then tank your engagement, right?
Yes, but it's the amount of ego involved that gets to you. Leandie hustles so incredibly hard; she's really great at this stuff. And at one point I was the leading Afrikaans alternative musician in terms of followers – maybe because my audience was so young, or maybe because I put a comedy spin on everything I post.
But then suddenly guys started overtaking me. Then you start looking at other people, how they grow, and you start wondering about your own identity, whether people still like you. Is it perhaps your own fault that you're not keeping up?
You go through this identity crisis, but actually the algorithm is all about how frequently you post. You need to keep up a very high frequency. And, of course, it matters what you're posting. People loved it when Leandie and I posted stuff together, maybe because it held some sort of romantic aspiration. Those posts just enjoyed so much engagement.
Or ones about feeling vulnerable and battling with depression. It shows you where we are as people, hey? We want to know that other people are also scared, that they also battle.
Like the day my dad died, I was home, and after all of the admin of letting people know and around what happens next, I sat down and took a beat. I opened my phone and wondered, how does one post about this? Which is crazy, since you'd never just walk up to a random stranger in real life and just launch with, "Hi there, my dad passed
away today." And yet we do this on social media all the time.
On the one hand, I feel like it obviously doesn't have anything to do with other people, but there's a part of me that feels like if there is anyone else out there who has been through this, who is also going through it, and they might be able to feel like they're not alone, that we're in it together, then maybe the pain is halved.
This is also why I have always been vocal about my relationship – or lack thereof – with my dad. Because there are loads of kids out there who don't have great relationships with their parents, and I want them to know that they're not alone.
---
You don't seem to find it hard to show your vulnerability in public. That is quite unusual for a man, especially an Afrikaans one …
I don't mind showing my flaws. My music has always been about my most vulnerable moments. I think people buy that, when they listen to and pay for my music – more so than the actual music, in a way. People ultimately seem to relate to me, whereas with many other musicians, they are really there for the music first.
---
How do you know what to charge for paid posts?
I try not to speak first because I tend to go in too low. I ask what their budget is and then I'll suggest that if they add two grand, I'll throw in a few value-adds. I did a campaign recently with a few other influencers and literally charged half of what someone with substantially fewer followers did. As in, I have 40 000 more followers than this person.
But my thing is I'd rather take the cash than risk losing the deal because it's not my core source of income. I'm okay with not making a killing at this because I don't consider it one of my companies. My focus is really on Freckle, Liefde Wen and my music.
---
How do you manage to post consistently enough?
I should probably post more consistently, because then I'm sure it'll become more profitable, but I don't have the capacity to produce content daily like Katinka die Kat does. Or even weekly. I'm just not in the mood to be funny every single day. I know from working with Nadia Jaftha on Tropika Island of Treasure that she's amazing and super disciplined at this.
I sometimes feel so insecure about my work. "Why would people want my opinion?" I ask myself. I write these really fun opinion pieces for the Afrikaans news site Netwerk24, for example, and even though I enjoy it, there's always this voice in the back of my mind, asking why anyone would read this.
It often feels as if I'm bipolar because I have to give myself a pep talk that it's okay not to have something to post now. Because you tend to look at the profiles of others, their projects, the audiences they pull in – and that's your downfall. When you start believing that your work
doesn't have an impact.
Then I usually go and look at what I'm actually busy with: Liefde Wen has more followers than Mr Price and Superbalist. Francois van Coke beats me on the follower front, but he only makes his music. I get up in the morning and run Freckle, Liefde Wen and other music projects. If you focus only on music, you'll probably eventually be able to also sell out the Sun Arena. But in my case, I make TV ads, I make movies. It's important for me sometimes to tell myself, "Hey dude, it's okay!" I love acting; I love TV and film and all those things. I recently did a live improv theatre show called Intermissie, which earned award nominations …
---
So basically you just take stock?
Yes. It's very human to compare yourself and to doubt, but it's nonsense. You're busy with your own thing that has its own impact where you're spending your effort. That's what's important.
---
What would you tell your 16-year-old self now?
Trust that voice inside of you that tells you what to do with your life; don't compromise. Francois van Coke never compromised. He didn't mess with his sound; he just kept going, growing, and then "Toe Vind Ek Jou", his hit single with Karen Zoid, popped out. And then it was as if everyone forgave him for all of the stuff Fokofpolisiekar did. That's the great thing about time and music. These days, if you're not booking Francois at your festival, you're doing it wrong. All because he stuck with his thing; he didn't back off.
I have played around with a lot of different sounds, and I don't think the same rules apply to everyone, but just go with what your heart tells you. Stay vulnerable. Stay honest.
---
Do you need to be popular in order to be an influencer?
There's a big difference between one viral video that becomes a breakout success and an audience that is consistently tuned in. You can only really start making money when you have a loyal audience you can rely on. You almost need to think of yourself as a TV channel. "Oh, it's Monday – that means Bouwer is doing his one-minute
comedy wrap-up."
The YouTube star Casey Neistat essentially did this, and it took years of discipline. Paul Logan too. You don't need fame or popularity. Just great content, consistently. If your content is good enough to inspire people, to speak to them, then you're sorted.
---
Mike Sharman says you need to constantly try out business models as an influencer, so that your business acumen improves, and you can leverage this in favour of the brands you partner with. Do you agree?
That's an amazing insight, because if you know how business works, you know what customers are looking for, and then you think of content from their perspective. Loads of people who are famous are not necessarily influencers. I don't cringe at the word; I want to challenge people to think differently. That's why I'm busy with all of my different business ventures.
---
How much energy and time do you spend on planning?
For so many years I just went along with whatever popped up on my journey, without a master plan. I remember getting into shooting music videos on a shoestring budget. I was 23, living in Potch and Straatligkinders just started doing well. Back in the day, we paid Loedi van Reenen R20 000 for a music video.
We had a whole host of bands in Potch, all looking for music videos. I knew Loedi's camera cost R17 000, so I drove to FNB and asked them whether I'd qualify for a R17 000 loan as a student. They said yes. I took that cash right there and bought the camera.
I taught myself how to shoot and started making R5 000 music videos for people in Potch. Because not all of the bands could afford R20 000 videos, but there was a demand for R5 000 ones. Then, suddenly Elvis Blue saw my videos, and I shot three for him. Then Rocco de Villiers. Then Gangs of Ballet, and before you knew it, I shot two videos for Matthew Mole, one of which got more than two million hits. All of this because I took the leap to buy a R17 000 camera – now we're shooting R1 million ads!
At one point I was exchanging emails with Greyson Chance and his manager about making videos for him. This is the same guy who went viral with his Lady Gaga covers and was featured on Ellen. They found me on YouTube back then, and I was honestly floored. No way, thought! We were in Skype meetings, trying to make the scheduling work, but I had to go for a back operation, and he was at university, and in the end it didn't work out.
But that was a clear gap that could have totally changed the course of my life. It only came up because I took a chance making R5 000 videos – music videos no one else wanted to bother with. Nothing you do is ever in vain, not even R5 000 music videos.
I think about those R5 000 videos often when I'm busy with my podcast. At the moment it's a hustle and I'm not making a cent from it, but it's the most fun thing on earth. It doesn't cost me anything, and I'm ahead of this trend that might eventually make me money – or maybe it won't.
It's a platform to have conversations with people, so that we have space to question one another, to educate one another. The point of the podcast is to build a track record, so I can leverage that currency to land bigger interviews. Your clout isn't always measurable only in cash. I'm just building influence for now. Playing the long game. I'm not playing at Afrikaans Is Groot. I'm not printing money, but very few others are doing what I'm doing.
I've only just arrived at a place where I have a proactive long-term game plan with goals of my own set-up. I've realised that my own brand is really important, even though I didn't strategise much through the years – I feel like I've winged it. Imagine how much further along I could've been if I had actually planned and strategised?That's why I want to change my approach now.
This is the first time I feel like I have a plan to really spread my wings. I had a really rough, cluttered time, and now I'm trying to set up a five-year plan that I can focus on.
---
And what is that plan?
Coco Chanel said you can't make a difference if you're not different. I tend to look at what Jo Black, Jack Parow and Francois van Coke are doing, but my true passion is reconciliation.
I see myself as a kind of Robin Hood. I truly try to help small entrepreneurs: new artists, musicians, underdogs of all walks of life. Like Loufi the rapper. I've been trying to help him and Biggy, whose single "Dames" was a breakout success in 2019, for a while now. Obviously, the main responsibility resides with the musician to promote their music, but I'd love to help where and when I can. Almost like Gareth Cliff does with CliffCentral.com – his listeners are so niche that it almost doesn't matter how small they are number-wise. They are dedicated, ultra-loyal and persistent.
But it's not only entertainment, movies, music and shows. I try to be the Afrikaner in the entertainment industry who also cares about things that don't only concern entertainment.
I try to show humanity in all people. I try to be the guy who is just a bit different on the inside. I need to be able to leave here and do business with everyone – not only Afrikaners. I cannot hide out in this Voortrekker laager. I was walking around Melville wearing one of my Steve Biko "Dis Hoe Dit Is Met Steve" T-shirts the other day.
[Dis Hoe Dit Is Met Steve was a talk show hosted by Steve Hofmeyr that ran for a decade from 2001 on the Afrikaans pay-TV channel kykNET.]
Two random black guys stopped me and started chatting to me about the message, the meaning of the Afrikaans words, the reference to Steve Biko, and it was great. I'm sure some Afrikaans people don't appreciate what I'm doing – I'll probably take a hit for it – but when I die one day, this is the kind of work I want to be remembered for. If I die right now, I'll do so knowing that I had meaningful conversations about topics when very few others wanted to. Not many people have these difficult and important conversations.
---
I've always thought of you as an alternative digital pastor – actively wrestling with so much stuff, asking difficult questions, keeping yourself and other people honest …
My mom would love that! It's great. I love it.
---
But there must be some very real consequences for being outspoken?
Certainly, you will face consequences. In Ashwin Willemse's case, we don't fully know what the consequences were of his move away from SuperSport, but perhaps you might find yourself voting for him in an election in the future.
When we were busy with our movie Thys & Trix in 2017, one of our major sponsors pulled R100 000 in funding from the project because of my outspokenness on the topic of reconciliation. And that was fair game – people can do with their money as they please. But our country is bigger than what happens in the Afrikaans market and that small anxiety corner of our culture.
The weird thing is that I then got a great gap with the Bulls in 2019. The same franchise and rugby union that used to be known for Steve Hofmeyr singing their theme song. I did a whole comedy-driven content campaign for them during the Currie Cup. They said their team consists of black and white people; they were not bothered by my political views at all.
If my political opinions have some sort of impact on the work and opportunities I get, that's also okay, though. This country is bigger than one culture. I'm a South African, a Suid-Afrikaner as much as I'm an Afrikaner.
But I actually think my divorce had a greater impact on my career and my opportunities than my political views. Liefde Wen definitely took shots, because people didn't seem to want to support the cause of loving your neighbour if it was driven by someone they didn't associate with romantic love any more.
---
Your divorce was very public. Is making a romantic relationship part of your influencer profile story worth the risk?
Look, it's important to have boundaries. Your husband doesn't go with you when you do your radio show in the morning, right? So, there's a school of thought that he, therefore, doesn't need to feature on your Instagram feed, right? I'd say that something always has to remain behind just for the two of you. It's very hard to put this into practice because when your heart is full of something, you want to share it with the world.
People have never become brands in quite this way before. We're all still figuring it out as we go, but, in hindsight, I'd definitely have stronger boundaries. Going forward, I'd be more careful, even though Leandie and I never purposefully tried to use our marriage on social media.
But it's a very personal thing – we didn't always have the same feelings about social media, you know? And there's no right or wrong.
The thing with a break-up or a divorce is that it's shameful, and when that shame is on a public level, it makes it much harder, but if you shared the good times with your followers, you need to suffer through the bad times in full view as well. You decided to play this game, after all.
The weird thing with all of this, of course, is that people tend to announce things on social media, which they could more meaningfully communicate with the other person directly. Like when people wish their kids happy birthday on social media or congratulate someone on a public platform. How many of those messages are really about the other person, I often wonder, and how much of it is actually about the person posting it?
---
Have you regretted any of your posts?
Nothing you put on the internet will ever really disappear. Times change, and Eddie Murphy's old comedy is considered so homophobic now that these days he can't get booked to perform anywhere any more.
People will find stuff you said way back and shame you for it if you earn even the most modest measure of success in the public eye. Just like how Trevor Noah's old jokes at the expense of Jewish people suddenly resurfaced as soon as he got the presenting job at The Daily Show.
---
Does this mean that your responsibility to yourself is bigger than the responsibility you have towards your partner brands and followers?
Absolutely. You need to be able to live with yourself years from now. My divorce changed me a lot. That's undeniable. I totally withdrew from society because of the shame associated with it. I withdrew from both Twitter and the world – I just didn't want to leave the house. Until I realised I didn't want to become that bitter person.
The guy I see in the mirror is, after all, even more important to me than the thousands I can reach on Twitter. My tweet about President Cyril Ramaphosa might go viral, but it won't change anything – it's just a short ego rush.
Also, I own a brand that is going through a tough time, so I also know what it's like when people say bad things about something you've spent years building. I feel it when people complain about Liefde Wen.
---
How much of your content can be sponsored? What are the limits?
I'd say 70% organic content, 30% paid-for. If you're strapped for cash, you might say yes to anything, but there's some benefit in guarding your brand and making it a bit more exclusive – both for you and the brands you partner with.
---
Have you ever felt like you need to bite your tongue more, about brands?
Look, I know it obviously works – when you complain about a service or product online, you get a quick resolution. But I soon realised you can't bite the hand that feeds you. When I was still hosting Flits, an entertainment show on kykNET, I once ranted on Twitter about the shockingvservice I was getting from DStv. Then Leo Smit from kykNET called me to say "Hey, dude …" and the penny dropped! What if this brand you're about to trash were actually considering featuring you in a campaign?
---
Who are the top influencers you follow?
Ryan Reynolds because I love how he markets brands. It's 100% him. Even when I know he doesn't drink Pepsi, I still enjoy his posts about it.
Schalk Bezuidenhout is also good in that same way. My business partner, Bennie, and I often tease him about it because he's so business savvy. He even charged me R800 when I wanted to borrow his car for a shoot, which is the right thing to do – I just never would have thought
of doing it if the roles were reversed. He's so switched on.
Katinka die Kat hustles, man. She's constantly shooting. She's constantly sharing content that I love.
Coconut Kelz is cool because she makes fun of everyone. She takes white people out all the time, and we love her for it. She gets away with stuff I never thought anyone would be able to. She's so young and cool; she has a really great, unique voice. Companies are literally stealing her ideas – that's when you know you are hot property!