Extract | Conquer Your Mountains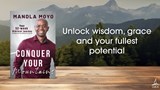 Chapter 1
EXPLODING INTO FREEDOM
The Volcanic Mountain
(6 weeks)
Visiting an island off the east coast of Africa, I stood in awe on the edge of a dormant volcano. I pondered the irony of the modernday beauty of the place, the fertile valleys and life-giving water sources that developed from terrifying volcanic eruptions of millennia ago, as God breathed His wonderful creative work to form this amazing land. The very same boiling lava that once seemed so destructive had resulted in nutrient-rich soil. The very same vents that had guided lava from thousands of feet below sea level had become the land mass for over a million people, with a caldera collecting water to feed rivers across the island.
Deuteronomy 4:11–12 speaks of standing at the foot of a mountain blazing with fire, and hearing God's voice emanating from that fire. Be awed as you come into the presence of a God who can melt mountains like wax (Psalm 97:5) and be comforted that this power behind the billions of burning stars in the universe will empower your victory.
The journey I will share with you for the next six weeks is themed on exploding from captivity into freedom. You may have experienced recent or distant explosive situations in your life that have left deep volcanic scars that are holding you back. Or maybe it was not so dramatic, but still you feel that certain doors remain closed to your progress. At the very least, you might feel that a better tomorrow awaits you than the past that tormented you. Use the next six weeks to reflect on the breakthroughs you need to take your life to the next level.
As you read stories of escape and migration in the first six books of the Bible, feel God working in you as He did in the first six days of creation, trusting that your internal work today will result in accomplishment, goodness and rest tomorrow.
Week 1
Genesis: Find My Way
Journey
My journey began when the Lord showed me a beautiful windmill, its big blades spinning in the wind. All around were lush green plants growing tall. I asked the Lord why there were so many plants spread out around the windmill. The Lord told me that it was because of the life-giving water the windmill was drawing from the ground. He said that I needed to draw life from His Word and from spending time in His presence. And that this would make me overflow with streams of living water in order to be a blessing to many.
The Lord turned to me and said: "Do not fear to share what you have been given, for it has been given that you may serve as help, inspiration, and guidance for others. Many will come to you – be open to share about the hope that you have. Do not hesitate, just be respectful. As the enemy makes his plans and sets them in motion, God has placed you in this place to overcome the devil's plans. So be ready to be a leader to the many who will come searching for answers as we head into the last days, into the rapture.
"Come, take My hand. Let Me lead you out of this dark place. Do not choose to stay in the dark. Come with Me before it is too late. Come and take your place beside Me. Behold the throne I have for you. Come and join Me. Watch behind you – the enemy waits for any opportunity to take away what I have given you."
Reflection
Genesis is about beginnings, and I pray that as you start this book you begin unlocking a new perspective to your work, your life and what you hold most dear. In Genesis 2:15 God placed us in the garden to tend and guard it. Your work on earth is like that garden, and you have been given the tools and mental capacity, such as windmills, to nurture it, and produce fruits. I have often found that work is like creating order out of chaos: Each day, week and year I am blasted with business reports, budget targets, emails, meetings, marketing opportunities, staff resignations, competitors' moves, and the ever-churning wheels of innovation. Out of that chaos, that darkness, one has to create meaning, form strategies and achieve goals.
You might feel as though the obstacles you face at work are insurmountable, but isn't it encouraging that, despite all the plans the devil makes, God makes His own plans that will help you find a way out of your "Egypt" situations? Egypt, in Joseph's day, looked a lot like today, with financial and resource crises, and political interventions such as state takeover of private enterprise. Although the crises you face in making ends meet might seem original, there's really nothing new under the sun.
Much like the seven years of plenty and famine in Egypt, I have gone through similar cycles. Sometimes I have had to remain committed to continue putting reserves aside when business was going well. Sometimes I have had to drain reserves and run in the deep red as products and departments made repeated losses despite the faith that I had; the hopes of success that proved misplaced. Sometimes it felt as if evil plans were gaining the upper hand, or that I, in my foolishness, had played the wrong hand. The world of work is often a stark reminder that we live in a broken world.
The book of Genesis also talks about brokenness, double crossing, deceit, lies, sex, drunkenness and betrayal, for instance. Joseph and Noah are like isolated beacons of truth, and you can join these heroes of faith if you choose. Genesis ends with Joseph reflecting on how an entire nation was created and saved through the reactions of one man who had been wronged. God looked after both the big picture and fine details along the way.
Key Verses
Genesis 1:3: God created light out of darkness. What are the situations in your work to which you can bring light?
Genesis 4:4: Could you be like Abel and bring your very best to God, and to your work, or are you a Cain who brings your second-best?
Genesis 9:14: The first rains on the earth brought the flood, and the rains after that brought the rainbow, a sign of the covenant. Would you like to form a covenant with God as you begin this journey? He is a great business partner and will never stab you in the back or undermine you.
Genesis 17:7–8: Do you believe that you are part of the inheritance, from the everlasting covenant God made with Abraham? God has placed an inheritance at your disposal that includes talents, gifts, opportunities, open doors, and sometimes painful learning sessions that will shape and refine you.
Genesis 15:6: Do you believe that the 'credits' you get from God can outweigh the burden of your failures?
Genesis 29:18: Are you so committed to your purpose that you would invest in a seven-year journey to get there, including working, studying and faithfully delivering day after day?
Genesis 38:9: This is a sensitive verse to reflect on, but its meaning is stark. Are you spilling the seeds and talents God gave you and, if so, how can you stop?
Prayer one
Father, today place a seal on my heart, for You have called me and set me apart for a purpose. For Your Name's sake, I have made myself a servant to all men. For the sake of Your gospel, I humble myself to Your will. Lord, I will run this race to the best of my ability. I will fight the good fight. I will do my best to be disciplined in all of this.
Lord, give me melodies and songs to praise You. Do Your work in me. Speak Your Word into me just as You created the heavens and the earth. You speak and it is done. You command and I stand – steadfast. You look upon me, fashioning my heart, considering how I am doing, turning Your face to shine on me with Your divine favour, and so I trust in Your Holy Name.
I am grateful that, despite my wrong turns, You are gracious in still finding ways to draw me back to Your plan. Lord, You are always faithful with Your promises. You have set aside a process for me to go through in getting to Your promises. I accept that process. Please understand that I am a little terrified of going through Your process. But I trust in You, and I know that Your plan is the right plan. May I be a source of joy and delight to You, Lord. Root my life and all that I am in You. Be my foundation, my shelter and the roof over my head.
Father, bring order to my life – to my situations. For Yours is not a spirit of confusion (1 Corinthians 14:40). Father, I don't always share about how much You have done for me. Give me the words, the heart and the feet to do this – and I will go. May people I speak to know that if they simply touch You, they will be healed and freed from their suffering, from fear and from the death of their spirit. For Yeshua came for our freedom, deliverance, joy and uplifting – to put order in our lives of commotion and to exchange our ashes and sackcloth for beauty and white robes.
Father, for the sake of Your Name, lead and guide me. Give me years that are full of joy, not sighs. Bring me to my knees, safe in Your pavilion. Be my hiding place. Encircle me with Your joy and Your mercies. Fill my heart with understanding and I will rejoice in Your truth. Continue Your work that You have started in me, even until the end of days.
Holy Spirit, link my spirit to You always, just as I yearn deeply for Your presence.
In the Name of Jesus, may I be kept pure.
Amen
Prayer two
Lord Jesus, make me Your letter. Write Yourself on my heart. Set Your seal on my heart, on my arm, on my head. Holy Spirit, giver of life, breathe restoration and newness into me, that I will give life to others. I will reflect Your glory that will radiate from me as I am transformed.
Father, I pray that when You call me, I will not doubt. Do Your will in me; I will not resist because You are in control. Let me be called blessed for all You have done for me. Bring down the barriers in my life. Thank You for sending Your Son to take away my sins. Thank You for choosing a nation through whom this message would be sent.
Father God, prompt me if I get to the stage where I honour You only with my lips and with an unclean heart. Show me not to follow empty traditions that do not honour You. I cannot blame my circumstances for my unclean heart, for You have given me the ability to overcome. Out of my heart have come evil thoughts on immorality, theft, murder, adultery, greed, malice, deceit, lewdness, envy, slander, arrogance and folly. What hope would I have if I tick all these boxes – if it wasn't for Your assurance of salvation?
Lord, when You take what little I have, break me into many pieces; put me together again and multiply what I have while protecting me from evil yeast. Then there will be such an overflow – an overflow of Your bread of life, manna to the people hungry for You. Give me full vision so that the people You have brought into my life are not just objects to me, but rather lost souls who desperately need Your salvation.
Who do I say You are? You are my Christ, my Alpha and Omega, and so I pick up my cross and I follow You; and so I will confess Your Name unashamedly before men.
Dear God, help me to discover my assignment. Your glory is to conceal a matter and for kings to find it. Show me how to use the abilities and talents You gave me.
In Jesus' Name,
Amen