Crackerjack | Peter Church Resensie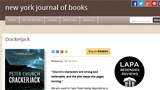 Reviewed by: Michael Sears on New York journal of books
We are used to Cape Town being depicted as a tourist city with an undercurrent of racial tension and get-your-hands-dirty gangsterism and corruption. Peter Church  has a different take.
Cape Town is also a high-tech hub servicing international tech companies such as Amazon. That leads to quite different types of crime and different ways of tackling them.
Daniel Le Fleur is a reformed hacker and very successful day trader. He's also a loner, a man who keeps himself apart from friendships and relationships, relaxing by hiking and painting copies of old masters.
His only real friend is a homeless person he calls Aqualung, who introduced himself to Daniel by telling him that one day he'll save his life. This is Aqualung's take on Daniel as they sit chatting on his favorite bench overlooking the sea:
"Do you still wake up and think about dying?"
"Sometimes."
"You are troubled by your purpose?"
"Come on now. I have a purpose. I fight bad and evil guys on the internet."
"You laugh but this is not funny. Not all who are bad are evil."
Aqualung stumbled to the pavement.
"You must do as you want. You'll wake up thinking of dying instead of living. You'll never change. You'll be like this bench."
So when an attractive young woman, Carla, arrives unbidden at his door, Daniel is far from delighted. She has a story about a missing businessman who has disappeared, and his company's liquid assets have vanished, too. Was the man murdered and his body thrown into the sea, was he kidnapped, or has he fled to South America with the shareholders' money?
It turns out that Carla is also an executive of the company and was being groomed to take over. She's convinced that her boss has been murdered by agents of a group after their business, and she wants Daniel to use his hacking skills to help her find out the truth. Against his better judgement, Daniel is sucked into the search for the missing man and the money.
In the meantime Fallon Trafford is released from prison, connects with her old network, and starts killing computer hackers—Daniel's erstwhile colleagues. Fallon is, in some ways, the books most interesting character: a killer we come to understand to the extent that any ordinary person can really understand a psychopath. At one point she thinks about her victims in these terms:
"She did not intend the first two . . . The third was a drunken old man she had shot in the head with his own gun. Four and five were contract killings. She had been paid to do a job. The last of the six, she could not explain. They were in a relationship of sorts. The guy was an aggressive asshole and he was pissing her off so she shot him."
It's not too long before Fallon is after Daniel and Carla, and she's not the only one. The plot proceeds along usual thriller lines, but there are twists as we near the tail.
Church's characters are strong and believable, and the plot keeps the pages turning. The author has other books in the wings that lead up to Crackerjack, and one is left wanting to read those as well.
Michael Sears writes with Stanley Trollip under the name Michael Stanley. Their most recent book is Dying to Live (Minotaur Books, 2017), the latest novel in the writing team's Detective Kobu series, with earlier entries nominated or winning a number of literary prizes including the Edgar, Anthony, Barry and International Thriller Writers awards.